The Speak Your Truth Community accepts new members when a space becomes available. Fill out your details to register your interest, and when the next spot opens up you'll be the first to know:
Click here to register your interest!
Or continue scrolling to read more about the community…
---
Right now you're struggling to say what's really on your mind without the self-doubt.
You know how it goes: you feel frustrated with your partner, but instead of speaking up you ignore those niggling feelings until the moment has passed, telling yourself that it doesn't really matter that much.
You're stuck in patterns of people-pleasing or caretaking, worrying so much about how the other person might react that you're never getting what you really want.
Those nagging voices of self-doubt are stopping you from sharing your whole self: out of fear of rejection, abandonment, or belittlement.
Even when it's only little things. Things that you tell yourself are trivial… but they all add up to eventual resentment.
Like when you started seeing someone new, and your dates were always on their terms. They'd only meet you when it was convenient for them, and often they'd be late or seemingly in a rush to head off afterwards. You knew you wanted more from them – more quality time, more enthusiasm, more care, but something inside told you that to ask for more was 'too needy'. So you settled for what you got.
And it left you wondering: is this as good as it's going to get?
Perhaps you know that it doesn't have to be this way, because of all those folks on Instagram reassuring you that you can advocate for yourself and set your own boundaries.
But you have no idea how to actually go about changing any of this.
Where would you even start?
I want to show you how to share your feelings, wants, needs, and desires, trusting that you can handle yourself whatever the outcome.
Introducing the Speak Your Truth Community
This community is for women who have reached their 30s and notice patterns of resentment, frustration, and disappointment in their relationships from lack of reciprocity.
It's for women who often feel afraid to speak up out of fear of rejection, abandonment, or belittlement.
It's for women who feel lonely on their journey without the company of others who have similar experiences.
It's for women who know they would benefit from support, reassurance, accountability, and guidance from a qualified intimacy coach (that's me) as well as the wisdom of a group.
It's for women who are ready to show up, participate, and share their journey within a supportive, intentional group space.
It's for women who feel excited to join an ongoing, growing community, rather than a specific time-limited course or program.
And it's for women who are feeling ready to explore the blocks, fears, and habits that keep them from speaking up, who are ready to begin shifting some patterns and who feel called to share some of this process with others.
Does this sound like you?
Yes! I want to register my interest
How could this community benefit you?
Community has been, without doubt, the most consistently important part of my journey to come back to myself.
To feel confident to speak up, regardless of the response. To identify my needs and desires, and work through the shame I had around them. To be able to create the kinds of relationships I want to be having: full of trust, honest communication, autonomy, and mutual care and support.
So why is community so important?
When you share the journey with others, you learn that you are not alone, which is one of the most effective ways to remove the shame you may feel over your challenges and desires.
Having a space where you know that all of you is welcome creates a sense of belonging, which is a powerful antidote to beliefs that you are not worthy or not enough.
Knowing that there are people that you can check in with, share with, and receive reassurance and support from whenever you need it gives you strength and confidence to handle challenging situations.
Within supportive community you give yourself new experiences of being seen, accepted, and heard without judgement. These are likely experiences that were missing from your childhood, and in community we can learn that it can be safe to speak up.
Ultimately, this is how we reparent ourselves: by giving ourselves the gift of belonging and acceptance within a group who can empathise and support.
If this was missing from your childhood experiences then it can be an incredibly powerful way to start finding new confidence now.
Just imagine how true emotional honesty could really feel. Being able to share your feelings, wants, needs, and desires, trusting that you can handle yourself whatever the outcome.
I want to share all of these things with you too!
Is this something you're looking for too?
What's included in the community?
The Speak Your Truth community is a monthly rolling subscription, which you can join for as long as is supportive for you.
When you sign up you will…
Have access to a group space where you can connect with others on the same journey
Receive new daily practices to try every week, based on different themes related to speaking your truth with confidence
Receive access to my Speak Your Truth 8 week course, which will take you through a process to feel more confident in speaking up with exercises, practices, video content, and guided visualisations
Become part of a small, intentional community of women who are struggling with similar challenges
Receive weekly group Q&A videos where I'll answer your questions about relationship dynamics, boundaries, and communication
Receive access to a library of guided embodiment meditations that you can use any time you need to come back to your body
Receive invitations to regular sharing circles on Zoom where we can all meet and hold space for each other
Are you ready to join us?
Click here to register your interest!
The Speak Your Truth Course
Along with a community space, you'll have access to the 8 week Speak Your Truth course. This is a guided journey to help you feel more supported, resourced, and confident in speaking up.
The course is divided into four chapters, based on the Psychosexual Somatics Therapy model and combined with Authentic Relating and Non-Violent Communication approaches:
Finding safety: you'll find resources you can use to create a baseline of safety within yourself, from which to explore more challenging places
Exploring your fears: you'll get in touch with some of the fears that show up for you in those moments when you stop yourself from speaking up, so that you can understand your needs better and how to meet them
Coming back to your body: you'll explore practices to learn how to feel more of yourself, so that it becomes easier to identify what it is you really want – in a deeper, more embodied way
Finding the words: you'll begin to learn how to be more direct in your language, without being aggressive or rude, so that you can ask for what you need without conflict or blame
While you can go at your own pace, I recommend spending around a fortnight on each chapter before moving on, giving yourself plenty of time to really absorb and integrate.
Each chapter includes video teaching content, a guided visualisation, an exercise, a daily practice, and journaling prompts. It's designed to fit into your day to day life without having to dedicate many hours to watching videos or meditating!
Are you ready to join us?
The Speak Your Truth Community accepts new members when a space becomes available. Fill out your details to register your interest, and when the next spot opens up you'll be the first to know:
---
Who am I?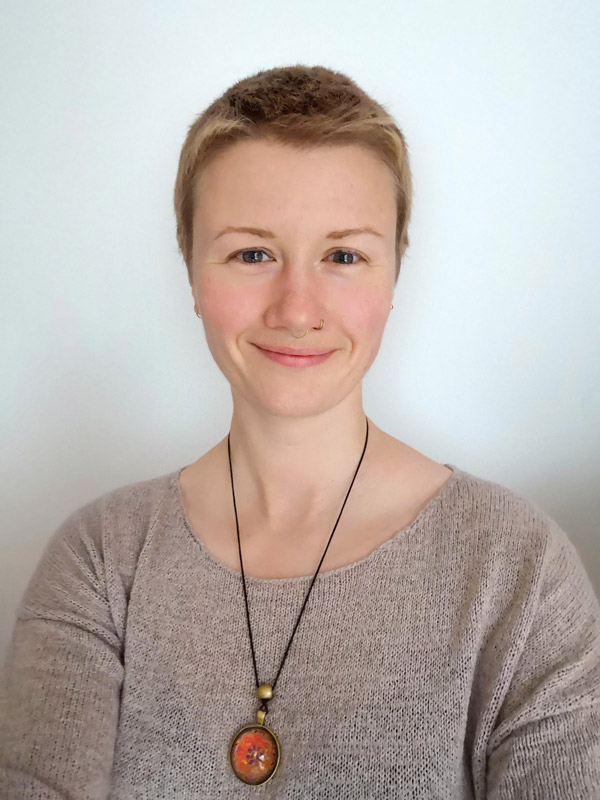 I'm Hannah: I'm trained as a coach in Psychosexual Somatics Therapy (PST), which is a gentle, trauma-aware method of moving through intimacy challenges – sexual, relational, or emotional. It emphasises nervous system regulation while addressing childhood attachment issues, by combining a cognitive understanding of the emotional root causes underneath the presenting issue, alongside embodied practices and somatic awareness.
I combine this with my experience of Authentic Relating, Non-Violent Communication, and Radical Honesty approaches – for super effective communication that's direct without feeling aggressive.
It's a really awesome mix.
Above all, my mission is to support clients in slowing right down and feeling more of themselves. The connection you have with yourself is the most important thing you bring to any relationship with another person, so this is a really important place to start.
In my work I believe that challenges that show up in sex and intimacy are not problems to be solved.
Instead they are clues to show us the parts of ourselves that are wanting some attention and care. This requires working slowly to find these vulnerable places, and working with them gently.
Community Agreements
To create a space that is supportive, non-judgemental, and as safe as possible, it's important that we all abide by community agreements:
Confidentiality. What happens in the group stays in the group. While you are welcome to discuss your own experiences outside of the community, we all agree not to talk about others or name them without their explicit consent.
Curiosity, not judgement. We agree to bring curiosity when we disagree, aiming never to judge or shame anyone else in the group for their lifestyle, sexuality, expression, or choices. This is a sex-positive space.
We offer advice only with consent. We're not here to solve each others' problems or fix each other – we are here to hold space, listen, and share our own experiences. We only offer feedback or advice when we have the other person's consent to do so, or if they have specifically asked.
Participation. We agree to show up and take part. This is a community for folks who want give as well as take, and share their journeys with others. You are invited to bring your whole self!
Honour and respect self and other. This is a great space to honour your own boundaries while also respecting others'. We agree to take responsibility for what's ours, and be mindful of what we're both giving and receiving, aiming to act always from compassion and respect.
Are you ready to join us?
Click here to register your interest to join!
FAQs
How much do I pay to join?
You can join the community for $139 USD/month.
Does the $139 USD cover everything?
Yes! This includes access to the group space, Q&As, practices, zoom sharing circles, and the members library with meditations and course materials. If you sign up today you'll pay that same amount forever.
How long does my subscription last?
As long as you want it to. This is a monthly rolling subscription; you're welcome to stay (and I hope you do) for as long as is supportive for you.
What's the time commitment?
While signing up is a commitment to joining the community, the intention is for this to be a supportive space – not another chore on your to-do list. Support is there as and when you need it, and my hope is that all members will be available to offer reassurance and reflection in the group space too, in a way that feels good for them. The course materials are there when you want them, and you can go at your own pace.
Who's in the community?
The community is a small group of women from late 20s through to 40s who are all learning to feel more confident in speaking their truth. Members are spread across different countries (currently US, UK, Canada, and Australia). There is a mix of sexual orientations and relationship styles within the group.
What's the structure and content of the group – how does it work?
You'll be invited to the group chat space which members use for checking in, asking for advice or thoughts from others, getting things off their chest, or sharing tools and resources. It's a really supportive space.
You'll also have access to a member's library where there are materials to go through at your own pace – meditations, Q&A videos, and the Speak Your Truth course. I post a monthly theme and related practices to try, too.
You'll be invited to sharing circles on Zoom which you're welcome to drop in to when you'd like to – there's no commitment to come to all of them. They happen fortnightly on Sundays at 8pm GMT.
Which platforms do you use?
The main group space is on Discord, which is a private chat app similar to Slack. Discord has apps available for mobile and desktop.
The course materials are accessible via a members area of my website, and group sharing circles happen via Zoom.
Are you ready to join us?