Perhaps you've begun the work already: whether with a therapist, by starting to make sense of the ways your childhood has impacted your adult experiences, or by learning about boundaries and attachment styles from some wise folks (and their Instagram accounts).
And now… you're curious about really putting all that you've learned into practice.
You're here for brave relationships built on trust and presence. The kind of relationships that feel freeing and empowering. The kind that aren't always particularly comfortable – especially when you're bringing your desires to the table for the first time. But the kind where that discomfort feels tolerable, and even good, because you know and trust it's in service to deeper connection.
This is a process that starts with yourself first of all, because the connection you have with yourself is the most important thing you bring to any relationship with another person. From this secure anchor within yourself, you can begin to explore deeper intimacy with others.
And this process is what I'm here to help with.
Here's what a couple of clients said about working with me:
I would highly recommend coaching with Ro. I was struggling in my relationships and with intimacy in general. I have had a lot of psychotherapy but was looking for something that combined the mind with the body and also gave me some tools to deal with overwhelm and anxiety within intimate moments or within my relationships, and I completely got that with bells on! Ro is kind, compassionate, intuitive and she adapted to whatever came up in the sessions, allowing me to feel authentically held and authentically myself.

Charlie
I came to Ro not sure exactly what I needed, but knowing that I was in a lot of pain and very confused about how to deal with it. Ro taught me not to judge my feelings and instead get curious about where they were coming from. She helped me find the roots which majorly opened up my perspective on what I was experiencing in a way that I could understand.

Now I can begin to unravel each new obstacle with confidence that I will be okay. During experiences of pain I now have a list of healing tools to use to help guide me out of the hopeless place and into a regulated nervous system where I can function. I know it's a slow, lifelong practice but I am confident that I have what it takes to work through it. Ro's confidence in my ability to heal helped give me strength to endure the process.

Thank you Ro! Working with you has made the biggest impact on my healing journey. There's only so much I was able to do on my own and you helped bring me the rest of the way home.

Anon
What can intimacy & relationship coaching help with?
Here are some of the most common themes I work with in my practice:
You're feeling anxious a lot of the time in your relationships. It's really difficult for you to just be with big emotions like sadness, anger, and fear without acting in ways that you regret later on.
You'd love to feel more able to respond to your emotions with patience and care, and regulate yourself through challenging times with ease.
You're freezing up in sex, and finding it difficult (or impossible!) to ask for what you really want and say when something doesn't feel right. You're not able to relax, and then you tell yourself you should be able to relax… which makes it worse.
You'd love to feel more embodied and free in your sexual experiences, and able to just be without feeling so much pressure.
You're sweeping difficult conversations under the rug when something happens that upsets you, waiting for your annoyance to fade away, and just hoping that it won't happen again. Except it does, and the cycle repeats, and it's starting to feel pretty draining.
You'd much rather feel able to express your hurt in the moment, so that you can feel more connected to those around you.
You're feeling drained and frustrated in your relationships, noticing that the other person is often calling the shots and you're not really getting what you want. You might find it difficult to really say 'no' to your partner out of a fear of being pressured – whether that's something you've experienced with them or not.
You'd love to feel more confident in bringing your needs to the table.
The thing about noticing stuckness and frustration in any of these areas is that it is a necessary part of a process of change. While it's the first step, and feeling stuck usually doesn't feel like much fun, it does mean that something new is wanting to emerge.
And that's where coaching comes in.
Want to talk more about whether we could be a good fit?
How can intimacy & relationship coaching help?
Intimacy and relationship coaching is a powerful process, which takes advantage of your innate ability to bring your whole self to connection with another. Through the coaching relationship, we remind your body and nervous system that being in connection can be safe. 
And when you can feel safe in connection, well, communication feels easier. You can ask for what you want. The anxious thoughts that keep you up at night can quieten. And there's an underlying knowing that whatever happens, you'll be ok.
My clients tell me that I help them with their boundaries by giving them tools and different ways to communicate, that I hold a safe space where they can really go deep and learn more about themselves, and that they feel supported in connecting more deeply with how they really feel.
What to expect:
Space and time to slow right down and explore your experiences in sex and intimacy openly, without judgement
A space where you're encouraged and allowed to drop out of your busy mind, and connect to the deeper source of wisdom in your body
A space to explore how childhood and your earliest relationships might still be impacting you today
A sex-positive space that is affirming of queer and LGBT+ identities, alternative relationship styles such as polyamory, and kink/BDSM
Sessions may include:
Nervous system regulation: noticing when you're anxious, overwhelmed, or disconnected, and finding tools to gently bring you back into presence
Slowing down the words and feeling into your body, taking time to listen and feel what's there and developing deeper self-intimacy
Meditation, guided visualisation and imagery, using the power of your imagination
Identifying conflicting voices and 'parts' of yourself and dialoguing with them to resolve internal conflicts
Identifying emotional needs that went unmet in your childhood, and finding creative ways to get those needs met now
Gently challenging deeply held beliefs in doable ways, to begin making real changes
Sounding like something you'd like to talk more about?
A bit more about me…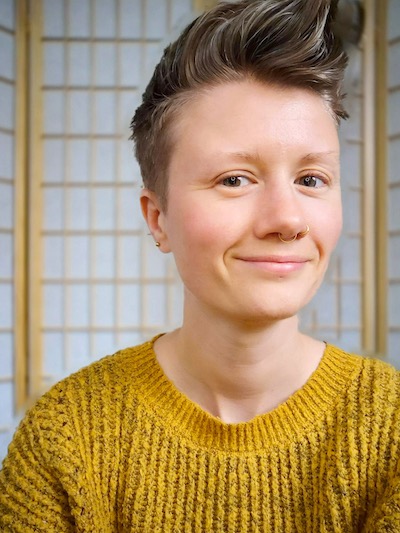 My name is Ro (she/they) and I work with curious and courageous folks who want to feel more flow in their relationships.
I'm trained as a therapeutic coach in Psychosexual Somatics Therapy (PST), which is a gentle, trauma-aware method of moving through intimacy challenges – sexual, relational, or emotional. It emphasises slowing right down and finding ways to regulate your nervous system, so that we can address childhood attachment issues in a really embodied, impactful way. We find the emotional root cause underneath the challenge that's brought you to sessions, and work at this deeper level to create changes that can ripple out in all areas of your life.
I combine this with my experience of Authentic Relating, Non-Violent Communication, and Radical Honesty approaches – for super effective communication that's direct without feeling aggressive.
It's a really awesome mix.
I'm also queer, ethically non-monogamous, sex- and kink-positive, and gender fluid. I affirm all of the diverse ways that relationships and sexuality can be consensually explored, and the many ways that gender can be felt and expressed.
Many of my clients are queer, LGBTQIA+, questioning monogamy or exploring non-monogamy, but not all. Many people I work with simply appreciate having someone to talk with who is sex-positive and open to many different styles of self-expression in relationships.
Above all, my mission is to support clients in slowing right down and feeling more of themselves. The connection you have with yourself is the most important thing you bring to any relationship, because this is where you can create a secure anchor for yourself from which to begin exploring intimacy with others.
Working with Ro has been one of this year's absolute highlights. Our sessions always felt like a friendly, warm and safe space where I could open myself up to seeing myself, my behaviour and my patterns with fresh eyes and from new vantage points. Ro has helped me gain invaluable insights into myself as well as providing me with tools to keep connecting to, and to keep exploring how I feel, what I need, how I communicate, how I perceive myself and those around me and, most importantly, how to recognise my boundaries and better communicate them to those around me. I am really excited to see where this journey takes me from here. Thank you Ro for being there at the outset!

Kris
My Approach
I believe that challenges that show up in sex and intimacy are not problems to be solved. They are clues that show us the parts of ourselves that need some attention and care – often very young parts, from early experiences of not feeling truly seen, understood, and accepted. When you can radically welcome and unconditionally accept every part of yourself as an adult, you're meeting emotional needs that went unmet when you were younger. And then, paradoxically, big changes can happen.
Here's a bit more about how that works:
Even if your childhood felt pretty happy and normal on the whole, it's possible that your caregivers couldn't always give you the time or care that you needed – often because they had plenty of their own challenges to work through.
For example, what happens if you are showered with affection when you're polite and happy, and told to 'pull yourself together' when you're upset? You might learn that the people closest to you won't have any patience for your tears, or that you won't get any support if you're sad – so it's best not to share that with others. This protects you – very effectively – from the pain of your hurt being dismissed.
It also leads to some tricky relationship patterns as an adult!
When we learn that the full range of our emotions isn't safe to bring to relationship, we shut off part of ourselves. We sacrifice deeper connection so that we feel emotionally safe. This can make it really difficult to know what we are feeling, to share it with others, and to speak up when something doesn't feel right.
There's a lot of work you can do on your own, but because we're working in the realm of relational wounding, the most effective and lasting changes happen within the context of a compassionate relationship. The coaching relationship is where we can create healing.
Together, we give you new experiences of getting in touch with your feelings and needs, having them honoured and acknowledged, and being truly seen by another person.
Together, we give you a new experience of connection: one where there is safety and reciprocity.
Then all your relationships benefit.
Working with Ro was transformational for me; I was honestly a little skeptical, because I live a lot in my head, and try to out-think all my challenges. At the start, I didn't really "get" how to listen to my body or my wisdom.

Ro's gentle and robust presence really helped me to dive much deeper, into areas that felt truly vulnerable. Her embodied approach has completely changed so many ways in which I show up to the world. She really supported me challenging myself, and also helped me "be on my own team". Working with the different parts of me has been liberating.

SS
Is coaching right for you?
We could be a good fit, if…
You've noticed that something isn't quite feeling right in your relationship with yourself, or with others, and you'd like to unpack this and give it some attention
You have some experience already of dropping into your body and feeling your emotions
Your mental health is solid: you're not taking antipsychotics or antidepressants, and you don't have any current mental health diagnoses for depression or personality disorders
You don't currently have any active addictions to alcohol, prescription drugs, or recreational substances
You are ready to start challenging the patterns, stories and beliefs that are showing up in your relationships
How does the process work?
We start with a free call to get to know each other a little better. It's important that coaching is a good fit for both of us, so this gives us the chance to start feeling into that. I can ask about where you're at, and you can ask anything you want to know about me, too. And no pressure – I can also recommend other approaches or practitioners if I feel there might be someone better suited to you.
The next step would be to book an initial session, which is an opportunity to explore the themes you want to bring in more depth, as well as giving us a direction to take the work in. It's also a chance for us both to see whether it feels like a good fit to work together. Sometimes it's appropriate for me to refer on after this first intake session, which I'm always happy to do, or you might decide that you'd feel better supported by someone else.
If it's feeling like a good fit after the intake then we'd continue meeting weekly online at our agreed time. We might decide on a fixed number of sessions, or we might work more open-endedly depending on what you would prefer.
Intimacy and relationship coaching is intended to be a shorter-term engagement (as opposed to longer-term psychotherapy or counselling), so we'd check in regularly to see how the process is feeling, and especially with regard to the intention and focus we were working with. These are good moments to decide whether we want to continue in the same direction, change our focus, or end the process if it's feeling like the right time.
Sounding like something you'd like to talk more about?
Pricing
Sessions are offered on a sliding scale at either £60, £75 or £90 GBP per hour. It's up to you how much you pay depending on what is affordable for you.
To say that Ro has been instrumental in my personal growth is an understatement. I decided to approach her for coaching because I was struggling with connecting sexually and emotionally with my long term partner of over 20 years. Throughout our sessions, Ro and I explored my past trauma and how it has informed my views of myself and, by extension, my relationships. Her coaching style is gentle, supportive, sex-positive, and completely non-judgmental. I came away with a number of tools to help me identify triggers and manage my past trauma through a lens of self-compassion. Ro offered me a safe space where I could be completely vulnerable as I explored my past, while teaching me to recognize the various parts of myself that have resulted from it. I learned ways of coming back into my body and uncovered many truths about myself that had remained ignored for a long time due to shame. I was sad that our sessions ended, but I feel as though I am now on a path of possibilities.

VL
I have experienced long-standing difficulty in my relationship with orgasm. I felt heavy and shameful of what felt like a hopelessly tangled problem… It is something I've hoped to tackle for many years, but didn't know which professional to approach. Ro's work has helped me feel able to inhabit my body with more awareness, increase my choices in sex and intimacy, identify my desires and needs and find new confidence to express and explore them with partners. I would recommend a series of sessions with Ro to anybody ready to place more value in understanding themselves, anybody ready to begin moving through life with more self assurance, anybody open to wonder about their own inner workings… Thank you Ro, for being a guide and an inspiration!

Maddie
I would highly recommend anyone who feels like they want to connect with themselves in a transformative way to contact Ro. From the very beginning I felt completely safe to share, even on the most vulnerable topics, and I felt her presence as very grounding and supportive. Every session with Ro was like stepping into this bubble of total acceptance, where whatever emotion that was showing up for me was safe to be expressed and looked at. Her guidance was calm, intuitive and attentive, always very respectful and professional.

In the long run, working with her allowed me to be able to see, recognise, accept and respect the different versions of myself and understand better where they were coming from.

She is a truly amazing coach and person, and I am really grateful to have been able to have had those sessions together, as they proved not only to be the support I needed at that very moment of my life but also durably shifted my relationship with myself.

Alix
My sessions with Ro were so nourishing and rich, Ro holds space so beautifully and remains grounded, calm and non-judgmental whilst guiding me to be aware of my breathing, body, feelings and emotions. Each session is different, Ro uses the space and invited me to move my body, connect with my inner self and gave me tools to practice once I left the session. Ro has true empathy while remaining professional and helped me with my own boundaries. I really look forward to working with Ro again.

KA
---
Want to talk more about it?