There are relentless feelings of annoyance that you cover up with being super understanding, even when they cancel plans or turn up late for the hundredth time.
You feel frustrated that they don't anticipate your needs as well as you do theirs, and disappointed that you don't get the attention or care you really want from them. And meanwhile you're telling yourself you're putting in all the effort, without reciprocation.
If you're feeling tired, drained and frustrated, instead of feeling energised and excited by your relationships, and you're convinced that you're simply being 'too needy', then I have something I want to share with you:
While these experiences may feel like the start of a problem, they are actually a sign of something bigger: your inability to advocate for your needs.
Maybe you're scared of being a burden. Or that you won't be taken seriously. Or that they'll leave.
These fears often come from having parents who weren't able to make space for your emotions when you were growing up, and it's normal to respond by suppressing parts of yourself.
The problem is that this leads to unhealthy relationships, where instead of expressing what you're really feeling, you hide and accommodate while all the emotions simmer away under the surface until you reach breaking point.
The way out of this is to build your capacity to sit with the fears of what might happen if you advocate for your needs. You need to feel safe and secure in yourself, without outsourcing that job to the other person. So you know you've got you, regardless of what happens.
With a foundation of safety in yourself, you can then begin to explore the fears that come up for you in those moments, understanding where they've come from and how they benefit as well as limit you.
You can begin to reconnect with your body and your intuition, so that you can really recognise what it is you want in the first place.
And you can practice sharing more openly and vulnerably with others, in doable ways, from a place of deeper connection with yourself.
This is a process that I lead clients through in my practice as an intimacy coach certified in Psychosexual Somatics Therapy, and I've broken it down into meditations and practices you can try yourself at home.
Introducing the Speak Your Truth Course
In this course you will…
Identify when you use using indirect language that disguises what you really want
Practice speaking more directly without aggression or blaming
Connect with your true desires, feelings and fears in a gentle, safe way through guided visualisations
Practice creating safety in yourself, to better manage moments of fear
Identify the core fears that drive your behaviour and decisions
Create your own resource toolbox to support you in moments of overwhelm or anxiety
Understand more deeply where your fears come from and why they show up
Learn how to feel what you want in your body, before the mind gets in the way
Practice acting from your what your body wants, rather than what your mind says
Learn how to voice needs and requests in a non-violent way
Practice conscious, embodied touch and decision making
Discover the gifts that core fears bring to your personality
"I'm so glad I enrolled. I was in situation where I really needed that guidance to help me set my boundaries as they were stepped on, when I was allowing it to happen. I've seen amazing growth and managed to speak out for myself in intimate situations that I wouldn't have before."

Anonymous
Sounding like something you'd benefit from?
Usually this course is $249 – but right now I'd love to offer you a big discount:
Pick up the full course now for only $23 USD!

Secure payment via credit/debit card or PayPal.
30 day no-questions-asked money-back guarantee.
How does the course work?
The course is divided into four chapters, based on the Psychosexual Somatics Therapy model and combined with Authentic Relating and Non-Violent Communication approaches:
Finding safety: you'll find resources you can use to create a baseline of safety within yourself, from which to explore more challenging places
Exploring your fears: you'll get in touch with some of the fears that show up for you in those moments when you stop yourself from speaking up, so that you can understand your needs better and how to meet them
Coming back to your body: you'll explore practices to learn how to feel more of yourself, so that it becomes easier to identify what it is you really want – in a deeper, more embodied way
Finding the words: you'll begin to learn how to be more direct in your language, without being aggressive or rude, so that you can ask for what you need without conflict or blame
Each chapter includes video teaching content, a guided visualisation, an exercise, a daily practice, journaling prompts, and ideas for further reflection. It's designed to fit into your daily routine without having to dedicate many hours to watching videos or meditating!
While you can go at your own pace, I recommend spending around a fortnight on each chapter before moving on, giving yourself plenty of time to really absorb and integrate.
This course is designed to be done in small, doable ways: each meditation, exercise, and practice can be done in under half an hour (and many take much less time than this); the focus is on building daily habits that will support you in understanding yourself better and feeling more confident in speaking your truth.
Who is this course for?
This course is for people who have noticed patterns of resentment, frustration, and disappointment in their relationships from lack of reciprocity.
It's for people who often feel afraid to speak up out of fear of rejection, abandonment, or belittlement.
It's for people who don't have time to dedicate to hours of video content – but who are ready to commit to a few minutes every day to connecting with themselves and understanding themselves more deeply.
It's for people who are feeling ready to explore the blocks, fears, and habits that keep them from speaking up, and who are ready to begin shifting some patterns.
(And an important note: this course is for people in otherwise healthy relationships, where these fears are not actually coming true. if there are signs of physical or emotional abuse in your relationship, please seek support and keep yourself as safe as possible.)
"I'm working my way through the Speak Your Truth course and getting a lot out of it, thank you so much for offering this. I feel I've learned more in the past week or so than I have in years of trawling Google trying to work out what was 'wrong' with me!"

Amy
Sounding like something you'd like to try for yourself?
Usually this course is $249 – but right now I'd love to offer you a big discount:
Pick up the full course now for only $23 USD!

Secure payment via credit/debit card or PayPal.
30 day no-questions-asked money-back guarantee.
Don't just take my word for it…
This is a brand new course, and as such I don't yet have many testimonials for this specific offer. What I do have are many testimonials from clients I've worked with one-to-one, who can vouch for my approach:
"Using Hannah's naturally calm and supportive nature, I felt wholly able to dive deeply into personal reflections and swim in the depths of my feeling sensations within my body. I fully recommend Hannah to support people to feel into their patterns and make embodied changes to their lives."

Emerald May
"With Hannah's guidance, I feel I have just reached this point in my friendship with myself. And being a good friend to myself is exactly what's necessary for me to foster a healthier and more connected relationship with my partner, emotional and spiritual as well as sexual. Hannah has helped me gain invaluable insights into myself as well as provided me with tools to keep connecting to, and to keep exploring how I feel, what I need, how I communicate, how I perceive myself and those around me and, most importantly, how to recognize my boundaries and better communicate them to those around me."

Kris
"Hannah's work has helped me feel able to inhabit my body with more awareness, increase my choices in sex and intimacy, identify my desires and needs and find new confidence to express and explore them with partners."

Maddie
"Hannah holds space so beautifully and remains grounded, calm and non-judgmental whilst guiding me to be aware of my breathing, body, feelings and emotions. Hannah has true empathy while remaining professional and helped me with my own boundaries. I really look forward to working with Hannah again."

KA
"To say that Hannah has been instrumental in my personal growth is an understatement. I decided to approach her for coaching because I was struggling with connecting sexually and emotionally with my long term partner of over 20 years. I came away with a number of tools to help me identify triggers and manage my past trauma through a lens of self-compassion. I learned ways of coming back into my body and uncovered many truths about myself that had remained ignored for a long time due to shame."

VL
My methods and processes work, and I'd love to share them with you too.
Sounding like something you'd benefit from?
Usually this course is $249 – but right now I'd love to offer you a big discount:
Pick up the full course now for only $23 USD!

Secure payment via credit/debit card or PayPal.
30 day no-questions-asked money-back guarantee.
Who am I?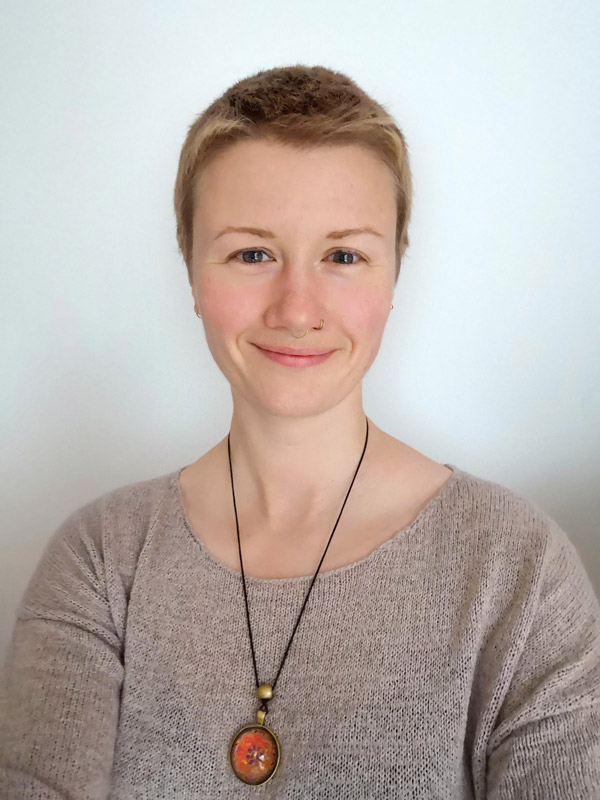 I'm Hannah, and here's my story:
A few years ago I was stuck in a cycle of back-to-back codependent relationships. Everything would be fun and exciting for the first few months, until familiar patterns of codependency would rear their head and I'd feel frustrated and unhappy.
For me, these patterns looked like constantly wishing my partner was 'different' somehow. Wishing they were healthier, more attentive, more empathetic. It also looked like abandoning my own needs: always going along with what they wanted, feeling unable to identify my own desires (especially when it came to sex), let alone ask for them.
It looked like no longer bothering with the routines and hobbies that were important to me, because I'd much rather prioritise what they wanted to do.
Occasionally I even put myself in abusive situations too.
All because I only really cared about the other person – not myself.
And it always ended in disappointment, resentment, and heartbreak.
Oof.
So what changed?
The short answer is that I met a guy…
…except he was polyamorous.
While nothing ever came of this particular connection (which was probably for the best at that particular point in my life), it did inspire me to start exploring polyamory myself.
Now, while non-monogamy isn't for everyone, it did teach me an awful lot about identifying my own needs, prioritising myself, and improving the way I communicate.
I realised that if I wanted to do it properly, ethically, then I had to start being really upfront with every new person I dated. Not only did I have to tell them that I was bisexual, which had already been nerve-wracking enough on occasion, but now I had to tell them that I was polyamorous too? And explain what that meant for me? And tell them about other partners?
It was something of a baptism of fire.
As I started to think more critically about the shape I wanted my relationships to take, the floodgates opened. It wasn't only about relationship styles – it was also about sex, kink, friendships, work. Cue a couple of years of pretty intense learning and exploration, including workshops, play parties and sex-positive events, and finally training to certify as an intimacy coach.
Now, this isn't to say that I've 'healed' all of my codependent patterns and all of my relationships are perfect. Whatever that means.
But it does mean that I can trust myself more than ever to prioritise my own needs (and to figure out what they are in the first place). It means that my relationships feel like partnerships, rather than one-sided caretaking arrangements.
Crucially, it means that I am in relationships because I want to be in them, rather than because I am afraid of being alone.
I'm trained as a coach in Psychosexual Somatics Therapy (PST), which is a gentle, trauma-aware method of moving through intimacy challenges – sexual, relational, or emotional. It emphasises nervous system regulation while addressing childhood attachment issues, by combining a cognitive understanding of the emotional root causes underneath the presenting issue, alongside embodied practices and somatic awareness.
I combine this with my experience of Authentic Relating, Non-Violent Communication, and Radical Honesty approaches – for super effective communication that's direct without feeling aggressive.
It's a really awesome mix.
Above all, my mission is to support clients in slowing right down and feeling more of themselves.
The connection you have with yourself is the most important thing you bring to any relationship with another person, so this is a really important place to start.
In my work I believe that challenges that show up in sex and intimacy are not problems to be solved.
Instead they are clues to show us the parts of ourselves that are wanting some attention and care.
This requires working slowly to find these vulnerable places, and working with them gently.
"The content is really well organised and clearly delivered. I feel like I fully understand what you are teaching me.

Your gentle, compassionate manner supports me in the self reflection needed to make the changes I desire.

What I love the most is how you offer simple daily practices to introduce these ideas into my everyday experience. I want to see real change in my thoughts and actions so this final piece of the puzzle, which is so often missing, is gold dust for me! I know that if I practise what you suggest then good things will happen…. (they already are 😉)"

Paula
Sounding like something you'd benefit from?
Usually this course is $249 – but right now I'd love to offer you a big discount:
Pick up the full course now for only $23 USD!

Secure payment via credit/debit card or PayPal.
30 day no-questions-asked money-back guarantee.
FAQs
How long does this course take?
The course is designed for you to go at your own pace. I recommend taking a couple of weeks per chapter, to give yourself a chance to really integrate the daily practices, but you can take as long as you'd like.
I'm super busy. Will I have time for this?
The videos and meditations are all under ten minutes, the exercises can be done in half an hour (or under), and the daily practices are under five minutes if you need them to be. The aim is to do one small thing every day or so, and build manageable habits.
What about in abusive dynamics, where staying quiet keeps you safe?
In some relationships, avoiding speaking your truth can be an important – and valid – way of keeping yourself safe. This course is aimed at folks who are in otherwise healthy relationships, yet who struggle with identifying and advocating for their needs and desires. If there are signs of emotional or physical abuse in your relationship then I strongly suggest seeking specific support for that, while keeping yourself as safe as possible.
How will I access the course?
When you purchase, you'll receive login details that you can use to access the course via my website. All the information you need will be emailed to you as soon as your order is complete.
Do you offer a money back guarantee?
Yes! You get a 30 day no-questions-asked money back guarantee. If you don't feel you've gotten $23 worth of value after 30 days, just shoot me an email asking for a refund and I'll sort it out for you. There's no risk here for you – that's how confident I am that this process will benefit you.
Want to try this out for yourself?
Usually this course is $249 – but right now I'd love to offer you a big discount:
Pick up the full course now for only $23 USD!

Secure payment via credit/debit card or PayPal.
30 day no-questions-asked money-back guarantee.